Gem Resources
PO Box 62006
Minneapolis, MN 55426

Phone: (612) 664-0252
Fax: (707) 361-0252
Toll-Free: (800) 588-8515
E-Mail:
Order Forms:
You have 0 () gems in your cart.
Garnet Orissa
Refraction Index: 1.73-1.76
Hardness: 7.0-7.5
Specific Gravity: 3.65-3.87
Treatment: None

Bright richly colored Garnets from The world famous Orissa gem deposits! These well matched Garnets are famous for their color and eye appeal. Really pretty gem quality Garnets that are great for collectors or perfect for jewelry!
Firing in Metal Clay results; Silver 1200F-1HR OK, Silver 1475F-1HR Metallic, Silver 1650F-2HR Metallic, Bronze 1525F-2HR OK, and Copper 1778F-30 min OK, Fire in carbon to avoid metallic coating.

Round Facet
| | | |
| --- | --- | --- |
| 2 mm | | |
| 2.5 mm | | |
| 3 mm | | |
| 3.5 mm | | |
| 4 mm | | |
| 5 mm | | |
| 6 mm | | |
| 7 mm | | |
| 8 mm | | |
| 10 mm | | |
| 12 mm | | |
Oval Facet
| | | |
| --- | --- | --- |
| 5 x 3 mm | | |
| 6 x 4 mm | | |
| 7 x 5 mm | | |
| 8 x 6 mm | | |
| 9 x 7 mm | | |
| 10 x 8 mm | | |
| 12 x 10 mm | | |
| 14 x 10 mm | | |
Square Facet
| | | |
| --- | --- | --- |
| 3 x 3 mm | | |
| 4 x 4 mm | | |
| 5 x 5 mm | | |
| 6 x 6 mm | | |
| 8 x 8 mm | | |
Trillion Facet
| | | |
| --- | --- | --- |
| 4 x 4 mm | | |
| 5 x 5 mm | | |
| 6 x 6 mm | | |
| 7 x 7 mm | | |
| 8 x 8 mm | | |
| 10 x 10 mm | | |
| 12 x 12 mm | | |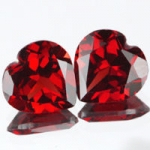 Heart Shape Facet
| | | |
| --- | --- | --- |
| 4 x 4 mm | | |
| 5 x 5 mm | | |
| 6 x 6 mm | | |
| 8 x 8 mm | | |
Pear Shape Facet
| | | |
| --- | --- | --- |
| 5 x 3 mm | | |
| 6 x 4 mm | | |
| 7 x 5 mm | | |
| 8 x 5 mm | | |
| 10 x 7 mm | | |
| 12 x 8 mm | | |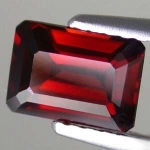 Emerald Cut Facet
| | | |
| --- | --- | --- |
| 6 x 4 mm | | |
| 7 x 5 mm | | |
| 8 x 6 mm | | |
| 9 x 7 mm | | |
| 10 x 8 mm | | |