Gem Resources
PO Box 62006
Minneapolis, MN 55426

Phone: (612) 664-0252
Toll-Free: (800) 588-8515
E-Mail:
Order Forms:
You have 0 () gems in your cart.
News & Specials
December

Up to 50% off normal prices.





Kyanite Indigo Blue
Natural Kyanite Cabochon

Refraction Index: 1.71 - 1.75
Hardness: varies from 4 to 5 and from 6.5 to 7.0, depending on the direction of the cleavage planes
Specific Gravity: 3.58+
Species: Silicate
Treatment: None
Care: Wash with soapy water. Avoid harsh detergents. Never clean ultrasonically or steam clean.

Kyanites name comes from Greek word "kyanos" which means deep blue.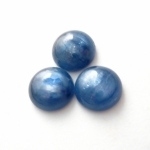 Round Cab
| | | |
| --- | --- | --- |
| 6 mm | | |
| 20 mm Discontinuing Size | | |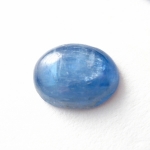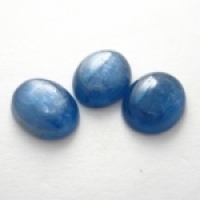 Oval Cab
| | | |
| --- | --- | --- |
| 9 x 7 mm | | |
| 10 x 8 mm | | |
| 14 x 10 mm | | |
| 16 x 12 mm | | |
Designed by
Copyright © GRI