Gem Resources
PO Box 62006
Minneapolis, MN 55426

Phone: (612) 664-0252
Toll-Free: (800) 588-8515
E-Mail:
Order Forms:
You have 0 () gems in your cart.
Moonstone Rainbow
Natural Rainbow Moonstone Facet
Visible Inclusions

Refraction Index: 1.518-1.526
Hardness: 6.0-6.7
Specific Gravity: 2.56
Species: Feldspar
Treatment: None
Care: Avoid harsh chemicals and never clean with ultrasonically or steam clean.

Some Inclusions

Metal Clay, safe to fire.
Test results; Silver 1200F-1HR-OK, Silver 1475F-1HR-OK, Silver 1650F-2HR Iridescent Blue, Bronze 1525F-2HR-OK, Copper 1778F-30min-More Iridescent. Fire in carbon.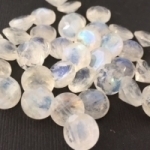 Round Facet
| | | |
| --- | --- | --- |
| 4 mm | | |
| 5 mm | | |
| 6 mm | | |
| 8 mm | | |
| 10 mm | | |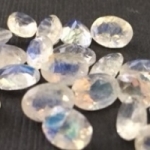 Oval Facet
| | | |
| --- | --- | --- |
| 6 x 4 mm | | |
| 7 x 5 mm | | |
| 8 x 6 mm | | |
| 10 x 8 mm | | |
| 12 x 10 mm | | |